ADM35H BLE Long Range sensor
Wireless multifunctional sensor ADM35H is used to monitor humidity, temperature, illumination and presence of magnetic field. Can be installed on stationary and moving objects. The data is transmitted by Bluetooth radio channel and stored in a non-volatile sensor memory with its subsequent unloading.
Due to IP65 housing the sensor can be used in harsh conditions.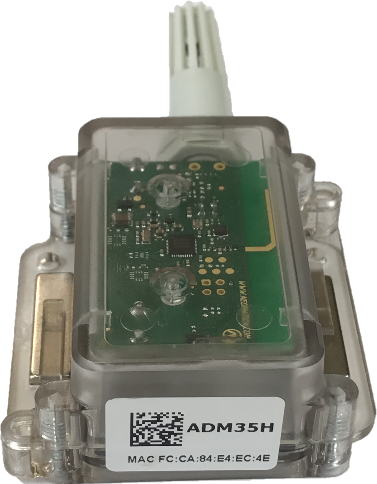 Advantages of ADM35H:
Simultaneous control of humidity, temperature, illumination and magnetic field (Hall sensor)

Data exchange technology: BLE Long Range and BLE
Due to a flexible setting modes you can adjust the signal power and range of up to 1000 m
Parameters control with the help of smartphone
Logger for 19700 records
Can work autonomously or with BLE tracker or with any tracker containing RS-485 plus BLE base ADM30
Changeable battery of 2700 mА/h.





---

Technical features of ADM35H sensor:


Operating temperature:

-40оС…+85оС


Range of humidity measurement:


0%..100% without moisture condensation

Range of illumination measured:

0,01 lux...83000 lux
Type of Hall element:

discrete, omnipolar

Frequency range of radio interface:

2400...2483,5 МHz

Transmitter power:

up to +8 dBm

Receiver sensitivity:

-96 dBm

Housing:

IP65

Data exchange technology:


Bluetooth Low Energy (BLE),

Bluetooth Low Energy Long Range (BLE Long Range)

Coverage in the mode of BLE:

up to 100 m in line-of-sight
Coverage in the mode of BLE Long Range:

up to 1000 m in line-of-sight

Number of stored records:

19700

Battery:

ER14505 / 3,6 В / 2700 мА/h

Operation time with one battery:

from 3 years

Dimensions:

129 (73 without measuring element) x 68 x 32 mm

Weight
Not more than 105 g



Downloads:

Configurator for Android - download

Manual - download



Firmware for ADM35H
If you need a firmware for the sensor please write to any of the following e-mails:
support@neomatica.ru
support@neomatica.com