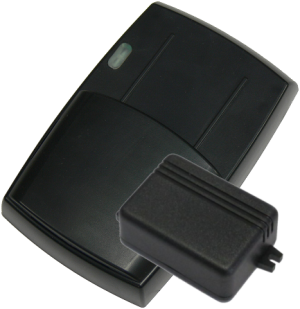 This system is designed for objects identification through radiosignals. Consists of a RFID-reader ADM20 and a RFID-tag ADM21. Equipped with close and remote identification functions.
Driver identification is made by EM Marine and Mifare cards. RFID-tag ADM21 is designed for object identification at the distance of up to 100 m.
Might be used for towed vehicles monitoring, labour time control, engine start handling, etc. The devices have got shockproof cases.
---
TECHNICAL CHARACTERISTICS OF ADM20-reader

PC connection interface

USB (with RS-485 – USB adapter)

Interface RS-485

1

Case material

ABS plastic

Radiochannel frequency for close identification

125 kHz, 13.56 MHz

Radiochannel frequency for remote identification

868 MHz

Supply voltage

+9..+40V

Operation temperature

-30..+60°C

Dimension and weight

at most 130x82x26 mm, 223 g
---
TECHNICAL CHARACTERISTICS OF ADM21-tag

Radiochannel frequency

868 MHz

Coverage

100 m in direct line of sight

Radiotransmitter power

at most 25mW

Autonomous operation time

Up to 3 years

Operation temperature

-40..+60°C

Dimension and weight

at most 71x51x27 mm, 77 g

Case material

ABS plastic
Download: